Turning Digital Natives into Digital Citizens

Throughout reading this book I kept thinking about how the Internet has created a participatory culture in today's digital media environment. The internet provides tremendous opportunities to cultivate digital citizenship by enabling students to share messages and transmit their own authentic voices about problematic and challenging experiences in their everyday lives. On the other hand, digital technologies reveal the controversial dimensions of on-line communication and the ethical issues and risky behaviors in daily digital life. Teachers and parents are needed to intelligently face this problem arena, and to challenge students' thinking. Despite the ever growing number of digital texts that students are creating nowadays (blogs, wikis, cell phones, web-cameras, video cameras, social networking, etc.) teachers and parents should seek opportunities to screen and discus the wide variety of student produced multimedia.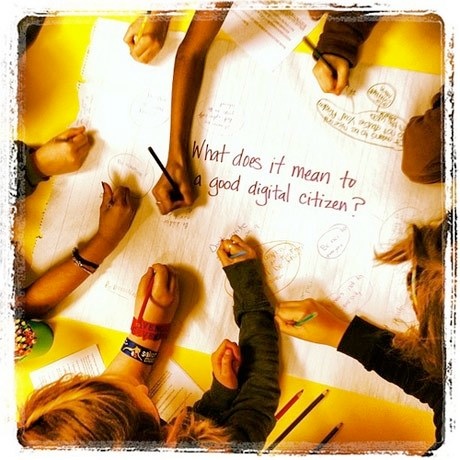 The key concepts of digital media literacy become opportunities to expand students' understanding of the essence of social power in their society and how it is implicated in their use of online social media. Such insights are crucial for teaching students how to grow up in life and online, to act responsibly as both authors and audiences in maintaining their own values, and to become considerate and effective communicators. These important ideas can be implemented through a responsive teaching approach that promotes and sustains intellectual curiosity, collaboration, and social responsibility.
Born Digital is about getting students to experience and practice responsible use of information and technology, and to develop an understanding of human, cultural, and societal issues related to media and technology. That means utilizing teachable moments through dialogue and discussion about mass media and popular culture, and reflecting critically on one's own processes of interpretation of media messages. Teachers partnered with parents have to create inquiry learning in the classroom; they have to encourage students to ask probing questions, undermine assumptions, seek out new ideas and make connections between ideas and actions in the real world. In this way students can experience significant personal growth by recognizing their power and their social responsibilities as communicators.